La French Heritage Night débarque!
March 23rd 2022, Detroit Pistons versus Hawks from Atlanta at Little Cesar Arena.
It was a partnership between Detroit Pistons, Alliance Francaise de Détroit, Alliance Française of Grosse Pointe and FACC that allowed this wonderful night at Little Cesar Arena. From the very beginning of the night with pregame show to the Detroit Pistons victory and finally, the post-game meeting with French American Detroit NBA player, Killian Hayes. This French Heritage Night brought broad smiles on all faces.
Here are some pics: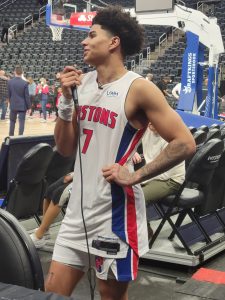 Killian Hayes French American, professional basketball player for the Detroit Piston of the NBA, 20 years old answered questions from our group of French and American fans. Killian is completely bilingual French and English, very friendly, he was born in Florida, grew up in France and played with French club Chlolet, Pays de la Loire, France before playing for Germany where he stayed a year. He joined the Pistons in 2020 and enjoys very much Detroit city and its culture.